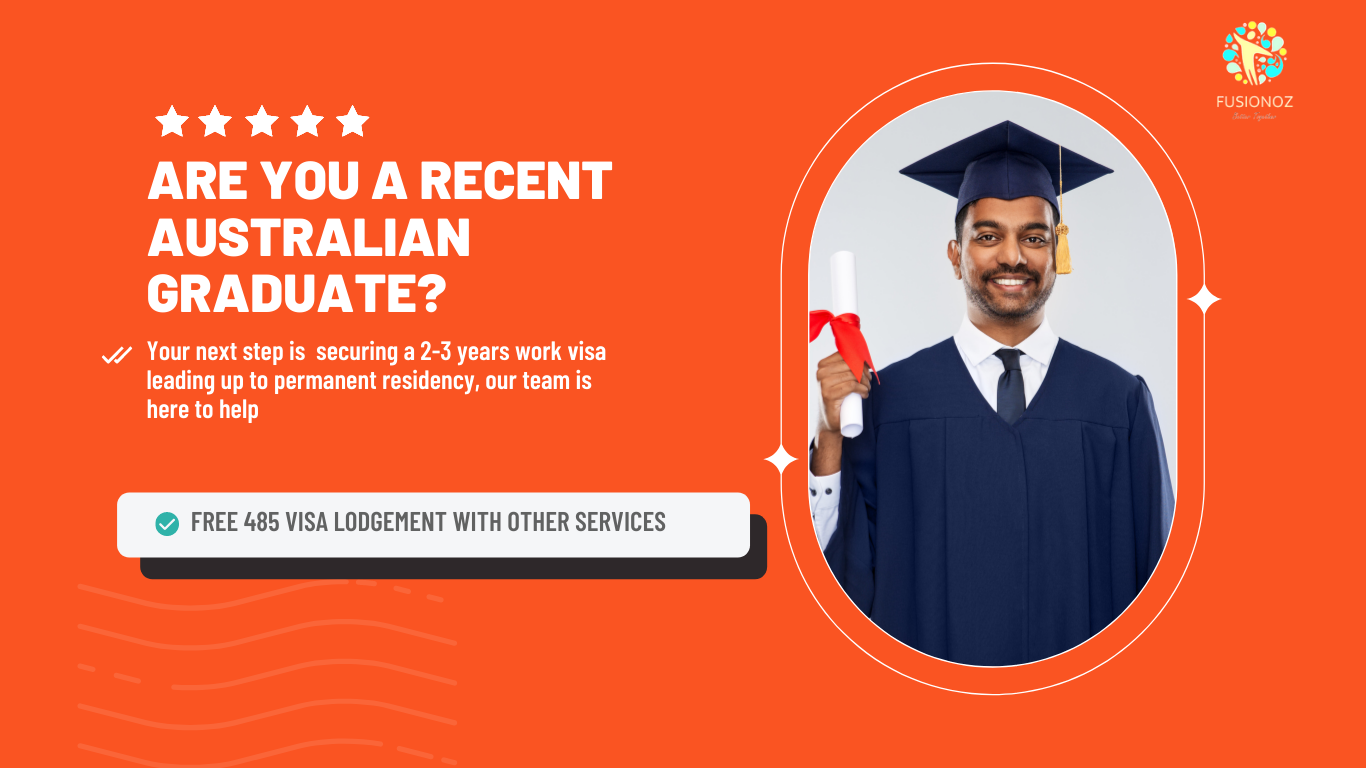 Temporary Graduate
Visa 485
The visa subclass 485, also known as the temporary graduate visa subclass 485, is a type of visa category available to international students who have recently completed any of their graduation courses and have some specific qualifications and skills that are relevant to the specific needs and requirements of the Australian occupations. This visa subclass 485 is subject to the requirement that the most recent graduated course for which this visa is requested for be at least two years long. This visa is valid for a minimum of 18 months and a maximum of four years, depending on the applicant's circumstances and eligibility.
You will be eligible to study or work in Australia after completing your registered course if you have the right to the graduate visa subclass 485. The Temporary Graduate Subclass 485 Visa Australia is separated into two streams: post-study work (valid for two to four years) and graduate work (valid for 18 months). Fusion Oz can help you better grasp the perks and other rights that come with having access to this visa category.
There are three types of temporary graduate visa 485. The first type of temporary graduate visa subclass 485 is called Graduate Work stream. This visa is mainly offered to graduates. Those who have recently graduated with skills and qualifications relevant to specific job sector that Australia need. It provides you all the privileges of living in Australia. It is a temporary visa. However, you can bring your family members to Australia if you have this visa. The 485 visa processing time usually takes 10-13 months to get this visa.

The second type of visa that a temporary graduate visa offers is the Post-Study Work Stream. If you gave graduated with a degree from any Australian institution then you are eligible for this visa. It gets you all the benefits of living in Australia for a time being. Additional 485 visa requirement is, your completed degree should be a registered course in CRICOS. It can get you stay permit for 2 to 4 years. The application procession time usually takes 7 to 14 months.

The final type of 485 temporary graduate visa is the Second Post-Study Work stream. If you already have a Post-Study Work stream visa, you are eligible to apply for this visa.

However, this visa requires a degree from a regional area only. It gives you all the privileges of living in Australia as well. You may live 1 to 2 years with this visa.

Contact Fusionoz to get a 485 visa checklist for free.
485 Visa Requirement/Checklist:
1. Age under 50 years.
2. Possession of a valid visa.
3. Completed a recent qualification into a CRICOS-registered course that is at least two years long.
4. Need to apply within six months of last holding student visa
5. Need to apply within six months of completion of course
6. Maintain valid health insurance.
7. Appropriate Australian Federal Police check.
8. Valid English Language Proficiency test

Perks of Visa 485:
1. Allows you to work or study for an additional 18 months to four years
2. Can add family members.
3. Full working and study rights
4. Freely move within and outside of Australia throughout the time you have access to it.

Processing time:
| Visa Type | 75% of Applications processed in | 90% of applications processed in |
| --- | --- | --- |
| Graduate work stream | 11 months | 17 months |
| Post-study Work Stream | 11 months | 12 months |
General FAQ's
1
Is it necessary for me to locate an employer to sponsor me for this visa?
The employer's sponsorship is not required to acquire access to visa subclass 485. However, obtaining this visa will not guarantee you a job; you will be responsible for finding work if you intend to work in Australia on this visa.
2
What English language skills are required for Visa Subclass 485?
Every candidate for the temporary Graduate visa subclass 485 must have a valid English Language proficiency score such as IELTS, PTE, etc.. For eg. must obtain a score of at least 6.0 in an IELTS test with each band being 5.0 or above during the previous three years of applying for the visa.
3
Can I seek for permanent residency while on a 485 visa?
Yes, a Temporary Graduate Visa subclass 485 holder may apply for a Permanent Residency Visa. This application for a PR visa contains a number of conditions that must be met in order to obtain a PR visa.
4
Can I apply for a visa 485 from abroad?
No, the primary applicant's temporary graduate visa cannot be applied for while offshore; however, dependent applicants' temporary graduate visas can be applied for and processed while offshore only if the applicant has been granted the 485 subclass visa.
5
How much visa subclass 485 cost?
AUD1680 but subject to change.
Let us help you in your Australian Journey to Permanent Residency by simply being "Better Together"
Contact us.
Feel free to call or write anytime